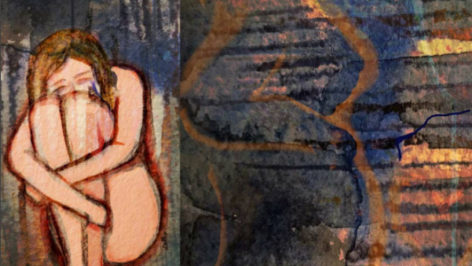 Culturally we do not deal well with grief. As a child I recall my grandfather telling me about our Sicilian heritage and how when a death happened the whole village felt it. The women would form a procession and mourn openly in the streets. He said often their cries would stop passerbyers in their tracks and through the acknowledgement of loss people were more respectful of life. He said relationships were stronger, too. Grief wasn't a lingering thing, hidden internally causing depression because there was the container of a community offering support.
October is Infant and Pregnancy Loss Awareness Month. Knowing this grief firsthand, I was called to connect with the other 1 in 4 women who are often silenced by a culture that doesn't know how to support them. I made this & other art as an offering of connection.
October 15th is the International Day to remember the little lives who did not make it to this world and honor the parents who courageously persevere and thrive despite the loss. Beautiful Woman is a small book of illustrations that reads like a lullaby for grieving moms. It can be frustrating the things people say or don't say to a women who has lost the dream and life of a child but it can also be amazing the support that arrives from people and places least expected. It is my hope that the more we support each other, the more we change the narrative. I'm excited to share this little compilation that has been such a gift through my own healing journey.
Through the loving encouragement of my husband & supportive friends & family, I was inspired to openly share this collection of artwork. I do it for two reasons: first, to honor the sweet little life's lost & second to encourage others on a similar & often silent path. Following the departure of our daughter this August, I was given the inspiration for the art. I carried her for only twelve weeks. Her heart stopped at ten weeks from an unavoidable misfortune that is far more common than I knew. Nonetheless she was perfect. If I was miraculously given the choice to go back in my life & choose to experience or not experience my time with her, I would choose our time. The heartache & pain of loss doesn't erase the gift of experiencing her. She was an absolute angel of joy to our world for the time she was here & is now with me in my heart always. She showed me my strength & brought me the color of this art. I share this honestly for the other women who are coping or remembering a little one on October 15th. It is not simply a pregnancy loss or a miscarriage, it is the loss of a life & dream, no matter how long it was carried within (please remember: you didn't miss-carry your child; nothing is your fault). The collection is called 'Beautiful Woman' because though beautiful is the last thing one feels when healing physically, spiritually, emotionally from such a hardship, true beauty shines in the heart. There is no beauty brighter than that of a mother who has been through the deepest darkness to rise strong & live fearlessly in her light, present yet forward focused.
I created this collection from bed in the ten days following the surgery to release our little angel. It was such a dark and challenging time for me as I waded through the various levels of grief. This work helped to lift me from my despair and allowed for me to begin the work of acceptance and release. In the days and weeks after, as my hormones plummeted back to their pre-pregnancy levels, I felt like I was riding a roller coaster. The suffering felt unbearable at times but these words and the colors of the art shone into the cracks of my broken heart. I created this first for myself and the memory of what I lost, then I felt called to put it together for a friend, and now it is my offering to the countless Beautiful Women out there – you are not alone.
Released October 15, 2017 on International Day for Infant and Pregnancy Loss
You can purchase a physical copy of the book HERE.
For all of the Beautiful Women who have endured a loss and continue to shine,
please use coupon code BEAUTIFUL WOMAN at checkout to receive the gift of a discount.